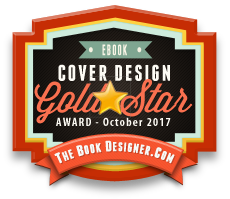 Gold star award for cover design
Gold star award for cover design
Gold star award for cover design
Every month Joel Friedlander and his team at the Book Designer take submissions for book covers in fiction and non-fiction. I have been following the awards for some time because the comments are invaluable and it has helped me to develop my sense of what makes a good cover design and current trends.
They award an overall winner in fiction and non-fiction. Runner-ups are awarded a gold star.
Some months there are lots of entries and some months few. The quality also varies month by month. If no books are worthy of a gold star they don't award any.
October 2017 was a tough month to enter. 99 entries in the fiction and many of them with excellent covers. We were one of 7 gold stars.
Congratulations to Joy Lankshear for her excellent design.